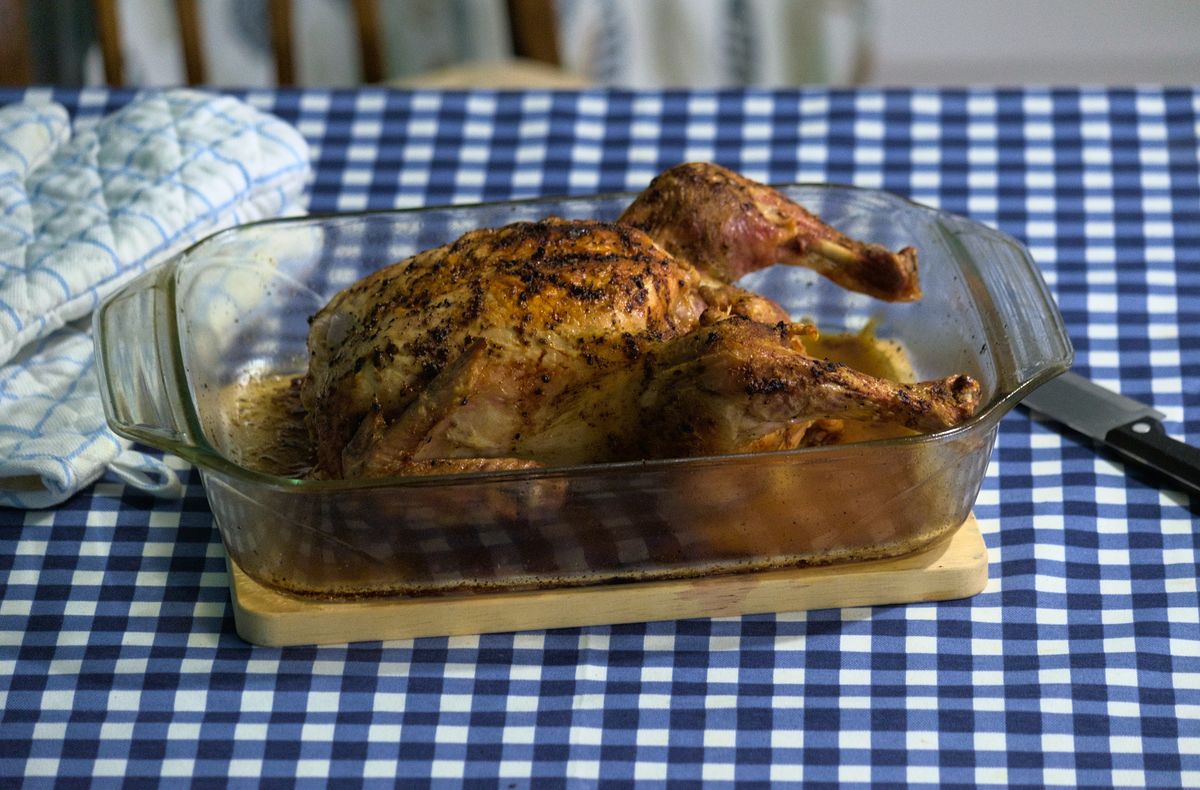 I do sure love juicy roasted chicken, and even though it isn't quite as fast to cook as other recipes in this site, it is quite simple and yields quite a lot of nutritious and tasty food for the effort required.
Ingredients
1 whole chicken, plucked and gutted
1/2 garlic head
1/2 medium-sized onion
~50g butter
1 lemon
Paprika
Garlic powder
Ground cumin
Black pepper
Salt
Instructions
First we are going to make the butter "sauce" mix for the chicken; add the butter, garlic powder, cumin, pepper, salt, paprika to taste to a sauce pan; I usually add enough paprika so that the sauce looks quite red, and add as much garlic powder as paprika.
Cut the lemon in half, squeeze one lemon half over the sauce.
Simmer the mix over low heat until the butter is melted, after that simmer for another minute.
Put the other lemon half, onion half, garlic head half inside the chicken.
Preheat oven to about 240 degrees Celsius.
Rub the butter mix over the chicken; use a cooking brush, or if you don't have one, you can use a spoon.
Put the chicken in a baking dish breasts up; I like to use a glass baking dish since it doesn't stick much to it, and that way the juices from the chicken pool up inside of it, more on that later.
Put the baking dish with the chicken inside the oven, and roast for about 1 hour, depending on how big it is; should be about 30 minutes per kg.
Baste the chicken from time to time, about once every 20 minutes, with its own juices.
Once it's done, pull it out of the oven and let it rest for about 10 minutes.
Serve with some side dish (mashed potatoes are a great choice!) and enjoy!
A small tip
Don't get rid of the fat and juices left over from the chicken! Pour them into a jar through a sieve and refrigerate them. You can use them later to make some delicious rice with them, or to use it as "sauce" for some side dish, like mashed potatoes, or even use it to make roux.
© 2018—2023 Yaroslav de la Peña Smirnov.